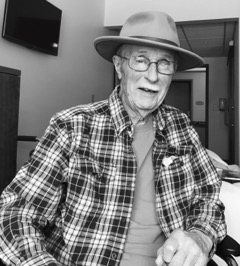 In Memory of
Walter C. Lacks
1925 - 2018
Obituary of Walter Lacks
Walter C. Lacks, 93, of Norwood, NY succumbed to heart failure on Saturday, May 5. He was a man of faith, a teacher, an avid gardener, a missionary, an advocate for healthful living, a collector of priceless junk and devoted friends…a friend for life to all who shook his hand. Born in Gouverneur, NY and raised in Bergen County, NJ, Walter served in WWII as an x-ray technician and graduated from Emanuel Missionary College in 1950. After a 30-year teaching career in Arlington then Potsdam, NY, he embraced a life of service to others. In 1980, he and his wife, Doris, spent two years in Tanzania, renovating an abandoned mission farm for the Seventh-day Adventist Church. He returned to Africa five more times serving as a college professor, builder of a hospital for the Masai people, speaker, and farmer. During his last trip, at age 90, he was instrumental in establishing an on-going program to feed breakfast to 500 school children.
He leaves a loving wife, Doris, six daughters, Elizabeth Jeanne Dailey of Corinth, NY, Janet Kuczynski of Saratoga Springs, NY, Judy Maddox of Redwood Valley, CA, Joy Miller of Paso Robles, CA and two stepdaughters, Sue Zelener of Redlands, CA and Lynn Elmendorf of Toledo, IA, 14 grandchildren and 10 great grandchildren. He was predeceased by his parents, Walter Clarke and Mary Hockey Lacks and his brothers, Charles and Joseph, and sister, Jeanne Ritchie. He will be greatly missed by all.
Donations in Walter's memory can be made to support the children's breakfast program in Tanzania. Checks to be made out to the Gouverneur Seventh-day Adventist Church and mailed in care of D. Chambers, 5226 State Highway 58, Gouverneur, NY 13642. A memorial service for family and friends will be held on Sunday, June 10, 2018, 3:00 p.m. at the Seventh-day Adventist Church, 52 Court Street, Canton, NY.

16 Barnes Street |Gouverneur, NY | 13642 | (315) 287 - 2810