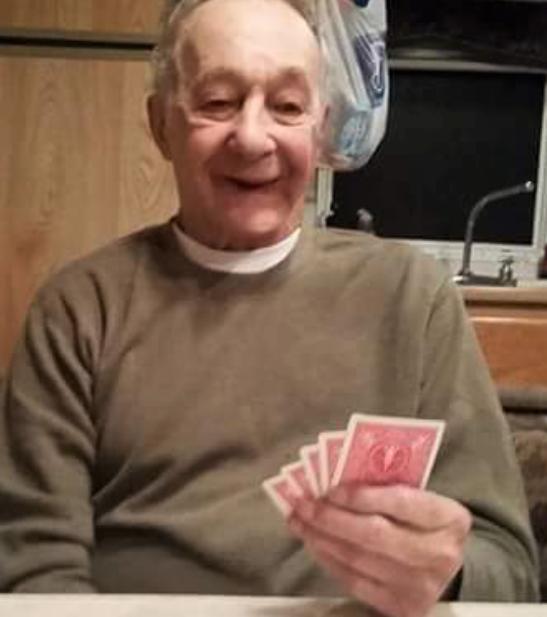 In Memory of
Kelzo "Kelly" Shrewsberry
1930 - 2016
Obituary of Kelzo Shrewsberry
HAILESBORO – Kelzo "Kelly" Shrewsberry, age 86, of Hailesboro, passed away at home on November 29, 2016 under the care of his loving family and Hospice.
Calling hours will be at French Funeral Home in Gouverneur on Saturday, December 3, 2016 from 2-4 and 7-9 p.m. His funeral service will be held on Sunday at 1:00 p.m. at the funeral home. Burial will be in the Hailesboro Cemetery.
Kelzo was born on June 7, 1930 in Weeksbury, KY to the late John W. and Myrtle S. (Sifers) Shrewsberry. He served in the US Navy from 1948 until 1953 and the US Army from 1954 until his honorable discharge in 1957.
Kelly married Betty J. Woodard on October 8, 1955 at the Gouverneur Methodist Church attended by Arthur and Lillian Woodard. He worked as an underground miner for St. Joe Mineral Corp. for many years. Never sitting idle, Kelzo always worked when the mine was on strike. He cut trees for many area people, worked for Antwerp Roofing, and was the tunnel supervisor for the Bath County Pump Storage project in Virginia.
Kelzo was an avid outdoorsman who liked "drinking beer and shooting deer". He loved to cut wood, hunt, fish, camp, go boating and dancing. He was a former Boy Scout Leader, a lifetime member of the Gouverneur VFW where he held several offices and enjoyed marching in parades and being on the firing detail.
His survivors include his wife, Betty Shrewsberry; five children, Mary Shrewsberry, Beryl Martin and her husband, Rick Hardin, Blane and his wife, Laurie Shrewsberry, Steven Shrewsberry, Kimberly and her husband, Jamie Provost; a brother, Blane Shrewsberry; a sister-in-law, Jo Shrewsberry; 13 grandchildren; 9 great-grandchildren and has 2 more on the way.
Kelzo is predeceased by his parents; a son, John Shrewsberry; a brother, Shurl Shrewsberry; and a sister, Lucille Johnson.
Donations in memory of Kelzo may be made to the Gouverneur Business Women's Breast Cancer Fund, PO Box 64, Gouverneur NY 13642. Condolences may be shared online at www.frenchfuneralhomes.com.

16 Barnes Street |Gouverneur, NY | 13642 | (315) 287 - 2810