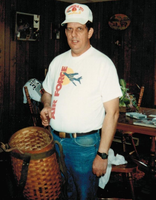 Robert E. Bebee
FINE- Robert E. Bebee, age 72, of Fine, NY passed away on June 24, 2019 at home.
There will be a funeral service for Robert on Monday, July 1, 2019 at 11:00 a.m. at French Family Funeral Home in Star Lake with Deacon Philip Giardino officiating. Burial will follow at Woodland Cemetery in Fine. Condolences may be shared online at www.frenchfuneralhomes.com.
Robert was born on November 1, 1946 in Gouverneur, NY to Truman and Dorothy (Patnode) Bebee. He graduated from Clifton-Fine Central School in 1966, entered into the United States Army in 1967 and served until his honorable discharge in 1969. On August 1, 1970, he married Linda M. Van House at St. Anthony's Catholic Church in Newton Falls with Fr. Ruddy officiating.
Robert worked as a paper maker for the Newton Falls Paper Mill for 32 years retiring in 1997. He then worked for the Ice Storm Clean up and also worked for the Town of Edwards for a bit. Robert was a member of the DAV, The American Legion and Knights of Columbus. He enjoyed hunting and fishing.
Surviving is his wife, Linda M. Bebee of Fine; his mother, Dorothy Newtown of Star Lake; his step-mother, Beatrice Bebee; two sons, Robbie Bebee of Tucson, AZ and Jason Bebee and his wife, Lynette of Star Lake; a daughter, April Bebee of Star Lake; a sister, Charlene Robla of Baldwinsville, NY; five grandchildren and four great-grandchildren.
Robert is predeceased by his brothers, Dean and Chris Bebee.
Donations may be made in his memory to the Woodland Cemetery Association.