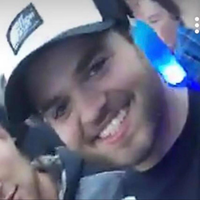 Christopher Blaise Fuller
GOUVERNEUR- Christopher Blaise Fuller, age 21, passed away on Friday, June 21, 2019 in the Town of Fowler.
Christopher was born on July 19, 1997 in Watertown, NY to Vernon and Michelle (Walseman) Fuller Jr. He graduated from Gouverneur Central School in 2015. He was employed at Empire Northeast, where he worked as a welder and electrician. He had an artistic gift for welding and would do a lot of welding projects on the side. He loved 4-wheeler racing, dirt bike racing and fishing and hunting. He also really loved the American flag and had it proudly displayed on everything. His most loved hobby was spending time with his friends and family and being the center of attention, with his larger than life, contagious personality.
Chris is survived by his parents, Vernon and Michelle Fuller Jr.; paternal grandfather, Vernon Fuller Sr. of Hailesboro; Maternal Grandmother, Ramona Walseman of Croghan; his great grandmother, Eveyline Minkler of Gouverneur; five brothers, Vernon and Lindsay III, Cody, Brady and his companion Rachael Prashaw, Nick and Brooke and Alex; four sisters, Mariah, Maranda, Mallorie and Clara; four nephews, William, Colten, Granger and Brayden and his niece, Jillian.
He is predeceased by his Paternal Grandmother, Linda Fuller; Maternal Grandfather, Beryl Walseman and an uncle, James Walseman.
Calling hours for Chris will be on Tuesday, June 25, 2019 from 4:00-8:00 p.m. at the Gouverneur Community Center. The funeral will be on Wednesday, June 26, 2019 at 11:00 a.m. at the St. James Catholic Church with Fr. Shane Lynch officiating. Burial will follow at Hailesboro Cemetery. Arrangements are with French Funeral Home, Gouverneur. Condolences may be shared online at www.frenchfuneralhomes.com.
Donations may be made in Chris's memory to the St. James School.