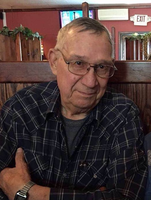 Weldon Paul Wells
GOUVERNEUR – Weldon "Paul" Wells, age 87, of Gouverneur, passed away on June 2, 2019 at the Gouverneur Hospital.
Calling hours will be held at French Funeral Home in Gouverneur on Friday, June 7, 2019 from 1 – 3 and 6 – 8 p.m. His funeral service will be held on Saturday, June 8th at 10:00 a.m. at the funeral home. Burial will follow in Riverside Cemetery.
Paul was born on April 1, 1932 in Gouverneur to the late Clifford and Margaret (Peck) Wells. He attended the one-room schoolhouse on Little Bow Road and Gouverneur High School where he was active in the 4-H and a member of the track team. He also played in the rural basketball league.
Paul was a member of the New York National Guard at the Ogdensburg Armory and trained at Pine Camp and Fort Belvore, Va. He married Phyllis J. Fields on August 14, 1955. This year was their 63rd year of marriage.
Mr. Wells had worked for area farms and the Gouverneur Co-op before becoming a truck driver at the age of 18. He drove for several area trucking companies, drove as an independent owner for nearly 20 years, 8 years for Potters' Inc, and retired from Wayne French Trucking in Russell.
Paul was a member of the VFW DAD's where he was honored as the "Dad of the Year" in 2005 and was a member of the Old Time Trucker's Club. He enjoyed tinkering, making repairs at the Custard Cottage, loved his chocolate and peanuts, watching Westerns and Police shows, scratch-off tickets, and going to the coffee shop everyday with his friends.
He is survived by his wife, Phyllis of Gouverneur; sons, David (Rose) Wells of Germany, Dennis (Charlene) Wells of Rockmart, GA, Sheriff Kevin Wells (Mary Curran) of Canton, Retired NYS Trooper Kurtis (Marisa) Wells of Gouverneur, and Pastor Kory (Kathleen) Wells of Watertown; sisters, Fern (Dale) McKinney and Betty (Ed) Warner; and a brother, Barry Wells. He is also survived by 8 grandchildren, Gary, Tuesday, Jacob, Mandie, Todd, Whitnee, Sarah, and Heather; and several great-grandchildren.
Paul is predeceased by his parents and a brother, Clifford Wells.
Donation in memory of Paul may be made to the Gouverneur Cemetery Association, PO Box 29, Gouverneur NY 13642 or the Gouverneur Rescue Squad, PO Box 164, Gouverneur NY 13642. Condolences may be shared online at www.frenchfuneralhomes.com.