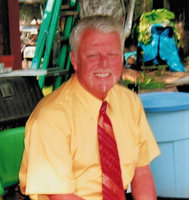 James D. Harris
RUSSELL – James "Jim" D. Harris, Jr, age 74, of Russell, passed away on May 24, 2019 at the VA Medical Center in Bath, NY where he has resided for several years.
There will be a graveside service held at Pleasant View Cemetery in Clare on Wednesday, June 5, 2019 at 11:30 a.m. Arrangements are with French Funeral Home in Edwards. Condolences may be shared online at www.frenchfuneralhomes.com.
Jim was born on April 16, 1945 in Salt Lake City, UT to the late James D. Harris, Sr. and Eloise Marie (Butler) Harris. He was raised in Utah and lived in Long Beach California before moving to Northern New York.
He served in the United States Army from October 31, 1962 until his honorable discharge on October 11, 1965. He had earned this Rifle Sharpshooter and Pistol Marksman badges.
Jim was a self-employed carpenter for many years and enjoyed painting. He had several works of his art hung in the VA Medical Center in Bath where he volunteered for many years as well as painted a wall mural there. He was a member of the Masonic Lodge and enjoyed being outside and going fishing and hunting. Above all else, Jim enjoyed being with his children and grandchildren.
He is survived by his daughter, Makayla Harris and her boyfriend, Sid Bristol and sons, Jason and David Harris. He is also survived by his grandchildren, Blayden and Evayah Bristol.