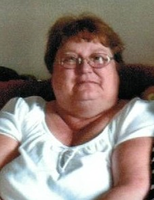 Sarah I. Jones
RUSSELL- Sarah I. Jones, age 63, of Russell, passed away on Monday, May 20, 2019 at her home under the loving care of her family and Hospice of St. Lawrence Valley.
Sarah was born on March14, 1956 in Canton, NY to the late Samuel Emerson and Elizabeth (Basford) Hale. She graduated from Knox Memorial Central School in 1974. Sarah married Donald G. Jones on April 6, 1974 at the Edwards Assembly of God Church.
Sarah was a secretary for the Rehabilitation Center at the E.J. Noble Building in Canton for many years. She had also previously worked at the St. Lawrence Book Store. She enjoyed spending time with her grandchildren, going to the casino, bowling and playing softball.
Surviving is her husband, Donald; a daughter, Susan and Sean Lennon of Hermon; three brothers, Loren Hale, Alden Hale both of Russell and Fred Hale of Florida; a sister, Mary Hewlett of Russell and four grandchildren, Cade, Jack, Halee and Ryan Lennon.
She is predeceased by a son, William Gene Jones, who died shortly after birth; a brother, Donald Hale and a sister, Marie Hale.
Calling hours will be on Wednesday, May 22, 2019 from 5:00-8:00 p.m. at French Funeral Home, Edwards. Her funeral service will be on Thursday, May 23rd at 11:00 a.m. at the funeral home. Burial will follow at Pleasant View Cemetery in Clare. Condolences may be shared at www.frenchfuneralhomes.com.
Donations may be made in Sarah's memory to Hospice of St. Lawrence Valley, 6805 US Highway 11, Potsdam, NY 13676.