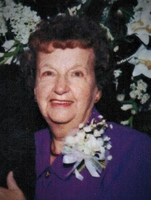 Derith "Derry" Clark
GOUVERNEUR – Derith "Derry" Taylor Clark, age 93, of Gouverneur, passed away on May 19, 2019 at her home.
Funeral arrangements are private and being handled by French Funeral Home in Gouverneur. Condolences may be shared online at www.frenchfuneralhomes.com.
Derry was born on December 31, 1925 in Croghan to the late Joseph and Hyacinthe (Andre) Forney. She graduated from Father Leo Memorial High School in Croghan in 1942 and attended Watertown School of Commerce.
Derry worked 3 years at Rome Manufacture Co. in Rome, NY before her marriage. She married Dwight G. Taylor on July 31, 1944 at St. Stephen Catholic Church in Croghan. Mr. Taylor, a mechanic and logger, passed away November 28, 1975. Derry married Arnold Clark in Edwards on April 21, 1978. He passed away in September of 1991.
Mrs. Clark enjoyed gardening, reading, crafts and playing cards.
She is survived by Barbara Taylor of Watertown, Sue and Glenn Goodelle of Florida; 3 sons, Francis "Doc" and Marjorie Taylor, Patrick and Colette Taylor of Saranac, Stephen and Lorna Taylor; daughter-in-law, Edythe Peabody Taylor of Harrisville; 3 brothers, Ronald and Neil Forney of California, and Donald Forney of Arizona; 11 grandchildren, 12 great-grandchildren and 1 great great-granddaughter.
In addition to her husbands, Derry is predeceased by 2 sisters, Ruth B. Talbot and Mary Janice Prouty; 2 brothers, John "Jack" Forney and Shortland "Rip" Forney; and 3 sons, Richard F. Taylor in July 2003, Joseph L. Taylor in February 1992, and William R. Taylor in November 2011, and an infant daughter, Kay Marie in 1955.
Donations in memory of Derry may be made to St. James Catholic Church, 164 E. Main Street, Gouverneur NY 13642.