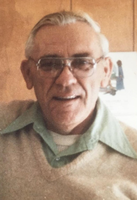 Elmer "Bob" O'Shea
RUSSELL – Elmer "Bob" R. O'Shea, age 93, formerly of Russell and Hermon, passed away on May 12, 2019 at the RiverLedge Rehabilitation Center in Ogdensburg.
Calling hours will be held at French Funeral Home in Edwards on Wednesday, May 15, 2019 from 4:00 – 8:00 p.m. His funeral service will be on Thursday at 11:00 a.m. at the funeral home. Burial will follow in the Pleasant View Cemetery in Clare. Condolences may be shared online at www.frenchfuneralhomes.com.
Bob was born on March 28, 1926 in Fine, NY to the late Elmer G. and Ida (Lincoln) O'Shea. He married Harriett Donnelly on October 12, 1944 and together they had 11 children. Harriett passed away in 1985. A few years later he married Wanita (Jesmer) Plowman. She passed away in 2009.
Bob had worked for J&L Steel in Benson Mines before working as a self-employed mechanic. In his free time, he enjoyed fishing and camping.
His survivors include a daughter, Linda (Gene) Clyde; sons, Robert (Sue), Gerald (Kelly Tresedder), Clarence (Adair), Marvin (Janet), Brian (Maria O'Hannolin), Robin (Shelley); daughters-in-law, Betty, Paula and Claudia; son-in-law, Bob Powers; a sister, Betty (Carl) Patnode; and many grandchildren, great-grandchildren, nieces and nephews.
In addition to his parents and his wives, Bob is predeceased by 4 sons, Charles, Bruce, Steven and Arthur O'Shea; 2 daughters, Ida Mae O'Shea and Dorothy Powers; a sister, Katherine Atkinson; and brothers, Lewis, Charles, Frank, Roland, Jack, Danny and Kenneth.
Donations in memory of Bob may be made to the Richard E. Winter Cancer Treatment Center, 5 Lyon Place, Ogdensburg NY 13669.