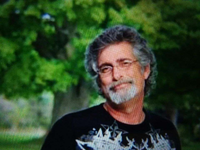 William "Bill" Navarra
GOUVERNEUR/WATERTOWN – William "Bill" L. Navarra, age 68, passed away on May 7, 2019 under the care of his family and hospice.
There will be a Celebration of Life held on August 3, 2019 beginning at 1:00 p.m. at Bill and Elly's home, 2 Kilkarney Court Drive, Gouverneur. Arrangements are with French Funeral Home in Gouverneur. Condolences may be shared online at www.frenchfuneralhomes.com.
Bill was born on September 15, 1950 in Watertown to the late William and Jean (Schumaker) Navarra. He attended school in Watertown. A marriage to Sandra Purvis ended in divorce. He married Ellyn "Elly" LaGorga on October 22, 1993.
Bill retired from the Watertown High School in 2005 after working in the custodial and kitchen departments for 20 years. After retirement he worked odd jobs in Georgia and worked for himself as well.
Bill loved music, riding his motorcycle, fishing and hunting. He spent most of his time hanging out with his wife, Elly; and was known as a jokester who liked to pull tricks on people.
In addition to Elly, Bill is survived by his three children, Bobbie Jo Woodard and her husband, Steven of Watertown, Brandon Crosbie and his girlfriend, Katrina Filkins of Watertown, Brook LaGorga and his wife, Andrea of LaFargeville; a sister, Carmella Morley of Glen Park; 9 grandchildren and 4 great-grandchildren.
He is predeceased by his parents and a sister, Elaine Navarra.
Donations in Bill's memory can be made to the Richard E. Winter Cancer Treatment Center, 5 Lyon Place, Ogdensburg NY 13669.