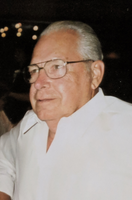 Phillip Parker
EDWARDS- Phillip Dow Parker, age 90, of Edwards, passed away on Monday, April 22, 2019 at Canton-Potsdam Hospital.
There will be a funeral service for Phillip on Friday, April 26, 2019 at 4:00 p.m. at French Funeral Home, GOUVERNEUR with Lay Pastor Martha Helmer officiating. Condolences may be shared online at www.frenchfuneralhomes.com.
Phillip was born on January 26, 1929 in Ogdensburg, NY to the late William and Beatrice (Johnson) Parker. He attended Harrisville and Russell schools and then later honored his country by serving some time in the Military. Phillip married Sharon M. Tuttle on May 19, 1973 at the Gouverneur Methodist Church. He had worked at the Gouverneur and Newton Falls Paper Mills, retiring from the Newton Falls Paper Mill at the age of 63. He also drove for the Department of Social Services. Phillip enjoyed and was well known for his gardening and storytelling. He also enjoyed collecting and polishing rocks and gems.
He is survived by his wife, Sharon; four sons, Mark Parker, Sam Parker, Brad Bowman and his partner John Schaffer and Phillip Parker and his partner Kathy Bates; four daughters, Ruth Donahue, Sheila (Bowman) and her husband Tim Allen, Lisa (Bowman) and her husband Mark Weir and Kimberly (Bowman) and her husband John Pistolesi; three sisters, twins Velva O'Hearn and Belva Church and Joan and Ronald Tuttle; 16 grandchildren and 27 great grandchildren.
Donations may be made in Phillip's memory to the Gouverneur Rescue Squad or, because of Phillips strong love of gardening, the family asks that you plant your favorite vegetable in his memory.