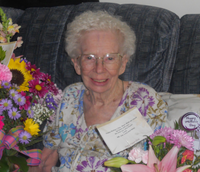 Barbara J. Hance
Degrasse --Barbara J. Hance, age 89, of Degrasse, has finished her final to-do list and is dancing with the angels in heaven.
Barbara was born on January 18, 1930, to Nicholas and Hilda (Cockayne) Daunt, immigrants from Ireland and England, respectively. She was raised by her mother and step-father, Bower Ward, and graduated from Massena High School. She wanted to go to college, but her mother said no, which in turn galvanized Barbara to make sure her kids had the opportunities she didn't. She had very strong opinions about shoes on babies, school lunch programs, and the evils of cigarettes.
Barbara worked hard to be a good wife and mother. She married Earl Partlow in 1948 and was widowed in 1973. She married Willis Hance in 1976 and was widowed in 1990. She married Robert Miller in 2014.
Barbara was always busy, always striving to make a difference, whether at a paid job or volunteering in the community. She was secretary to the Director of Food Services at SUNY-Canton for 21 years. She was secretary and treasurer for a number of organizations, including the Degrasse United Methodist Church, Degrasse Community Club, several Senior Citizens organizations (where she became famous for her raisin pies), and the DCSR Volunteer Fire Department. But the most fun she ever had was being on a bowling team with Jane Gotham and a group of local women who made her laugh.
Survivors include two daughters who liked to dance with her in the kitchen-- Nancy (Terry) Skeldon of Degrasse, and MB (MaryBeth) Partlow (Joe Loyall) of Colorado, and Willis' nine children. She was incredibly proud of her grandchildren, Matthew Partlow, Shaun and Amy Skeldon, and Lucille and Anika Partlow-Loyall. She strongly believed that family came first, and loved her nieces and nephews like her own children. Janet was her favorite; she said so.
She is predeceased by her son, Charles Partlow.
Calling hours will be held at French Funeral Home in Edwards from noon to 2 p.m. on Saturday, April 27, followed by her funeral service at 2 p.m. Burial will follow at the Pleasant View Cemetery in Clare.
Donations in Barbara's memory may be made to the DCSR Volunteer Fire Department at 2211 Co Rt 24, Russell NY 13684. Condolences may be shared online at www.frenchfuneralhomes.com.