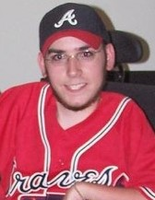 Keith F. Peabody
EDWARDS – Keith Franklin Peabody, age 30, passed away at home on April 16, 2019.
Calling hours will be held at French Funeral Home in Edwards on Thursday, April 18, 2019 from 12:00 – 1:00 p.m. followed by his funeral service at 1:00 p.m. Burial will be in the East Pitcairn Cemetery. Condolences may be shared online at www.frenchfuneralhomes.com.
Keith was born on March 11, 1989 in Potsdam to Richard and Rebecca (Hall) Peabody. He earned his GED through Clifton-Fine Central School and attended SUNY Plattsburg.
He is survived by his parents, Richard "Dick" Peabody and Rebecca "Becky" Peabody; siblings, Michelle Carr, Robert Peabody, Kathleen Peabody and her companion Joe, Matthew Peabody and his wife Jessica, Danielle Hall and her companion Daniel, Mark Peabody and his companion Sheena, and Blake Peabody and his companion Nicole; grandfather, Frank Smith; and many nieces, nephews, aunts, uncles and cousins.
Keith was known among his family and friends for his quiet wisdom and tremendous spirit to endure. His great faith in his Savior and ability to trust God with the time granted here speaks volumes to those willing to listen. Though his physical body presented its limitations, the greatness of his love and grace for those surrounding him abounded. His biggest smiles could always be captured when the youngest family members, be it niece, nephew or cousin was toddling around the wheels of his chair. An avid lover of sports, Keith was dedicated fan to his long-time favorite team The Atlanta Braves, and made yearly pilgrimages to Atlanta to soak up the sun and cheer on his beloved team. Keith loved video-games, board games and time surrounded by the laughter of his family.