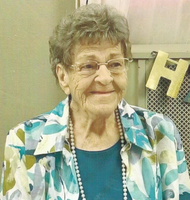 Thelma Ruth Jenkins
RICHVILLE – Thelma Ruth Jenkins, age 90, formerly of Richville, passed away on March 24, 2019 at the Gouverneur Hospital.
There will be a graveside service for Ruth on Wednesday, March 27, 2019 at 1:00 p.m. at the Maple Grove Cemetery in Richville. Arrangements are with French Funeral Home in Gouverneur.
Ruth was born on May 12, 1928 in Howick, Quebec, Canada to the late Thomas and Alma (Watt) Bott. She married Wendell Jenkins on December 12, 1948. The couple owned and operated the Wind Crest Dairy Farm in Richville for 42 years. Wendell passed away in May of 1991.
Mrs. Jenkins enjoyed bowling, playing cards and Bingo. She also enjoyed cooking, knitting, riding snowmobiles and was a member of the Richville Friendship Class (Club?)
Her survivors include her son and his wife, David and Sandra Jenkins, her daughter and her husband, Mary and Michael Morrissiey; 16 grandchildren; and many great-grandchildren, nieces and nephews.
Ruth is predeceased by her siblings, Willis Bott, William Bott, her twin Robert Bott, Bernice Cole, Mildred Randall and Doris Clark.
Donations in memory of Ruth may be made to the St. Lawrence County Cancer Fund, PO Box 291, Canton NY 13617 or the American Heart Association, PO Box 3049, Syracuse NY 13220.