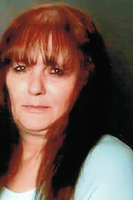 Laureen "Lorrie" Prashaw
GOUVERNEUR- Laureen L. "Lorrie" Prashaw age 58, passed away on March 20, 2019 at home.
Lorrie was born on January 16, 1961 in Gouverneur to Robert E. and Bonnie L. (Brown) Prashaw Sr. She graduated from Gouverneur Central School in 1979 and then went on for CNA training at Canton United Helpers. For several years she was a volunteer driver for DSS.
Lorrie is survived by her mother, Bonnie L. Barker of Gouverneur; three daughters and two sons-in-law, Kelly S. and Doug Crowson of Keysville, GA, Kerri and George Savage of Gouverneur and Kiesha Smith and her significant other, Chad Jenkins of Richville; a sister, Donna D. Prashaw of Gouverneur; four brothers, Robert E. Prashaw, Jr. of Brush Creek, TN, Jeffrey L. and Jackie Prashaw of Gouverneur, Jody L. Prashaw of Rochester and Karl D. Prashaw of Canton; her grandchildren, Kyle and Lilly Savage, Paisley Jenkins, Willow Crowson, and Hope and Miracle Holiday; several step grandchildren and many nieces and nephews.
Lorrie loved to spend time with her grandkids, they were her world.
Lorrie is predeceased by her father, Robert Prashaw who passed away on February 22, 1995 and her niece, Melinda Shampine who passed away on October 3, 2008.
Donations may be made in Lorrie's memory to the American Cancer Society. There will be no services. Arrangements are with French Funeral Home in Gouverneur. Condolences may be shared online at www.frenchfuneralhomes.com.