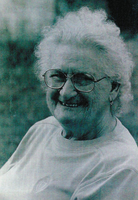 Aldea M. Jesmer
GOUVERNEUR – Aldea M. Jesmer, age 96, of Gouverneur, passed away on February 27, 2019 at Upstate Medical University in Syracuse.
Burial will be on Monday, May 20, 2019 at 11:00 a.m. in the Hailesboro Cemetery.
Calling hours were held at French Funeral Home in Gouverneur on Wednesday, March 6, 2019 from 11:00a.m.-12:00p.m. Her funeral will immediately follow at 12:00 p.m. at the funeral home. Directly after the funeral service family will receive friends and family at the Gouverneur VFW. Burial will be in the Hailesboro Cemetery in the spring.
Aldea was born on July 20, 1922 in Malone to the late Frederick G. and Blanche (Ouimet) Barton. She attended the Malone Catholic School and married Lloyd Jesmer on December 24, 1940 at the St. John Bosco Catholic Church in Malone. The couple moved to Gouverneur in 1952. Lloyd passed away on May 6, 1993.
Aldea loved to crochet, sew and read. She also loved to spend time with her grandchildren and great-grandchildren. She was a member of the ELKS Lodge and the Moose Lodge in Malone. She had worked in the Langdon Farms spinach fields, for Poupore Farm in Malone, was a cleaning lady at Nina's in Gouverneur, and also had worked for the Gouverneur Lace Mill and Paper Mill.
Her survivors include her son, Emile Jesmer of Gouverneur; daughter, Tamara McEathron of Gouverneur; a sister, Bertha Jesmer of Malone; and 2 granddaughters, Andrea and Todd Brasie and Teresa and Brian Loveless; and 5 great-grandchildren.
She is predeceased by her parents, Frederick "Pépère" and Blanche "Mémère", and her step-mother, Jane Barton.
Donations in memory of Aldea may be made to the Gouverneur Volunteer Rescue Squad, PO Box 164, Gouverneur NY 13642 or Friends 4 Pound Paws, PO Box 394, Gouverneur NY 13642. Condolences may be made online at www.frenchfuneralhomes.com.