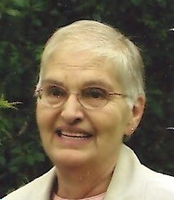 Jane J. Murphy
GOUVERNEUR – Jane J. Murphy, age 81, of Gouverneur, passed away on Saturday, February 16, 2019 at the Gouverneur Hospital.
There will be a Memorial Service held at French Funeral Home in Gouverneur on Friday, February 22, 2019 at 2:00 p.m. Burial in the East Riverside Cemetery will be on Saturday, June 22, 2019 at 1:00 p.m. Condolences may be shared online at www.frenchfuneralhomes.com.
Jane was born on June 20, 1937 in Shavertown, PA to the late Asa and Violet (Johnson) Gary. She graduated from a class of 8 girls in the school in Beaumont, PA and earned her LPN license through an adult education course. Jane worked for the E.J. Noble Hospital maternity ward for 25 years and helped deliver all of her grandsons.
Jane married Donald C. Murphy on June 30, 1958 at the Lewisville Methodist Church. Mr. Murphy passed away on June 1, 2009.
Jane was a member of the Rebekah Lodge for 50 years and was a Past Noble Grand and District Deputy. She and Donald liked to travel and go square dancing with the Star Promenadors. Jane liked to sew, quilt, and work on needle arts; and she was good at it all. Over the years she made many gowns for family weddings, proms, and other special occasions.
She is survived by two daughters and their husbands, Donna J. and Joseph Boscoe of Gouverneur and Debra J. and Michael Powers of Odenton, MD; 4 grandchildren, Mike, Don, Gary and Ben; and 4 great-grandchildren, Gaige, Mackenzie, Logan and Keegan; and numerous nieces and nephews.
In addition to her parents and her husband, Jane is predeceased by her sisters, Beatrice Polinski, Helen Wheeler and Ruby Oberst.
In lieu of flowers, donations in memory of Jane may be made to a charity of your choice.