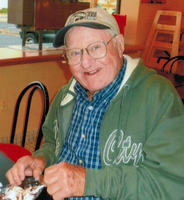 Kenneth C. Filiatrault
GOUVERNEUR – Kenneth C. Filiatrault, age 91, of Gouverneur, passed away on Monday, February 11, 2019 at his home under the care of his family and hospice.
Kenneth was born on September 13, 1927 in DeKalb to the late Cyril and Gladys (Dashnaw) Filiatrault. He went to the Antwerp School and the Transmission School in Potsdam. He served in the United States Navy from 1945 until 1946.
Kenneth married Beatrice M. Jefferson on June 28, 1947 at her parents' home in North Gouverneur. The couple was married for over 66 years when Beatrice passed away on February 12, 2014. Mr. Filiatrault was part-owner of the DEK Feed and Farm Supply for 33 years. He had also worked for City Service in Gouverneur for 10 years, worked for the Deferiet Papermill, was a mechanic in the Oldsmobile garage in Antwerp, and farmed for Jean Goodnough and the Ridgedale Farm in Antwerp. Kenneth was a Ford Model A enthusiast and enjoyed fishing and hunting.
His survivors include two sons and their wives, Percy and Karen Filiatrault of Gouverneur, Jeffrey and Deborah of Morrisonville; a daughter and her husband, Jessie and Steven Alguire of Mexico, NY; a son-in-law, Ronald Sherman of Gouverneur; and brother, Ivan of Antwerp. Kenneth is also survived by 26 grandchildren and their spouses, 34 great-grandchildren, 1 great great-grandchild, and many nieces and nephews.
In addition to his parents and his wife, Beatrice, Kenneth is predeceased by a daughter, Linda Sherman; brothers, Cyril and Wallace Filiatrault; and sisters, Genevieve Mitchell, Vida Aldrich Doherty, Ruth Johnson and Vivian Culbertson Cook.
There will be a memorial gathering at the family home at 2B Scotch Settlement Road in Gouverneur on March 2, 2019 from 12:00 – 6:00 p.m. Arrangements have been entrusted to French Funeral Home, Gouverneur. Condolences may be shared online at www.frenchfuneralhomes.com.