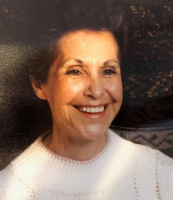 Elizabeth R. Rauth
STAR LAKE - Elizabeth R. Rauth, age 82 of Star Lake, NY passed away at home after a long illness on February 7, 2019. She was born to the late Lupe Rebeterano and Dora Apodaca on August 19th, 1936 in Trinidad Colorado. She was preceded in death by her husband, Jack Rauth, and her three sons, Edward Rauth, Vincent Rauth and Michael Rauth.
Elizabeth went to school in Tremonton, Utah and soon after wed Jack D. Rauth on the 18th of September in 1954 and was married for 56 years till his passing in 2010.
Elizabeth is survived by her two sons and a daughter: Jack Rauth Jr., Robert Rauth and Tina Pomerville, 6 grandchildren; Cherie LaPlante, Angelic Woodruff, William Olivier, Krystal Pomerville-Meek, Theresa Pomerville, Jeremy Rauth, Dana Cunningham and Gabrielle Rauth and 9 great grandchildren.
There will be a Funeral Mass at St. Hubert's Catholic Church in Star Lake on Friday, May 10, 2019 at 11:00 a.m. followed by burial in the St. Hubert's Cemetery. Arrangements are with French Family Funeral Home in Star Lake. Condolences may be shared online at www.frenchfuneralhomes.com.