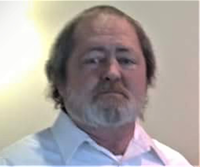 Michael D. Guiles
STAR LAKE – Michael "Mike" D. Guiles, age 59, of Star Lake, passed away suddenly on January 13, 2019 at St. Joseph's Hospital in Syracuse.
There will be a Celebration of Life held at the American Legion in Star Lake on Saturday, January 19, 2019 from 2:00 – 4:00 p.m. Arrangements are with French Family Funeral Home in Star Lake. Condolences may be shared online at www.frenchfuneralhomes.com.
Mike was born on March 9, 1959 in Star Lake to the late Gilbert Wayne Guiles, Sr. and Martha J. (Dalton) Guiles. He graduated from the Clifton-Fine Central School in 1977 and worked construction jobs and had previously worked as an offshore engineer. A marriage to Charyl Weaver ended in divorce. The two remained close friends and "partners in crime".
Mike loved spending time with his grandchildren and was an outdoors guy. He enjoyed hunting, fishing, trapping, four wheeling, canning, and making jerky.
His survivors include three children, Crystal L. and Stanley Flanagan of Colton, Michael D. Guiles II of Star Lake, Clifton W. and Amanda Guiles of Edwards; two siblings, Leigh and Dan Looney and James Guiles; sisters-in-law, Beth Guiles and Lori Zackasee; 12 grandchildren; and many nieces and nephews.
He is predeceased by his parents; three siblings, Janet Long, Mark Guiles, and Gilbert "Gibby" Guiles; and 2 grandchildren, Julia Mae and Martha Jane Guiles.
Donations in memory of Mike may be made to his family C/o Charyl Wolf, 26 Forest View Road, Star Lake NY 13690.