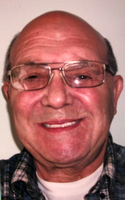 Kim H. Turnbull
ANTWERP- Kim H. Turnbull, age 70, of Antwerp, NY, passed away on Saturday, January 12, 2019 at Samaritan Medical Center in Watertown.
Kim was born on March 1, 1948 in Lowville, NY to the late Culver and Leona (Shorkey) Turnbull. He graduated from Morristown Central School. On March 22, 1991, he married Grace W. McIntyre. The couple had been married for 27 years, however, they have been together for a loving 37 years. Grace had recently just passed on December 16, 2018. A previous marriage to Kathy Benjamin ended in divorce.
Kim worked as a Construction Superintendent for United Brotherhood of Carpenters and Joiners of America Local 370. He had previously worked at St. Joe Mineral Corp. In his spare time, Kim enjoyed detailing his cars, woodworking and watching NASCAR.
Surviving are a son, Jason Turnbull of NC; a daughter, Nicole and Brian Justice of NC; two step sons, Edwin and Lisa Hadfield Jr. and James and Angela Hadfield both of Gouverneur; two step daughters, Pamela Matthie and Kevin Burns of Parish and Denise and Leon Mitchell of Heuvelton; Eleven grandchildren, Colby, Tara, Zach, William, Kylea, Kurtis, Tosha, Michael, Alice, Evan and Dion and seven great grandchildren. He is also survived by two nephews, Derek and Rob Macaulay, and a niece Jennifer (Macaulay) Free.
Kim is predeceased by his parents, Culver and Leona Turnbull and a sister, Linda (Turnbull) Macaulay.
As per Kim's wishes, there will be no calling hours or funeral service. There will be a private burial in Riverside Cemetery at a later date. Arrangements are with French Funeral Home, Gouverneur. Condolences may be shared online at www.frenchfuneralhomes.com.
Donations may be made in Kim's memory to the Gouverneur Breast Cancer Fund, P.O. Box 64, Gouverneur, NY 13642, in honor and memory of his wife, Grace W. Turnbull.