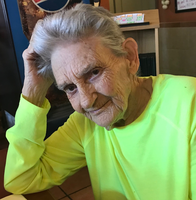 Eleanor M. Kerr
FINE – Eleanor M. Kerr, age 90, passed away on January 5, 2019 at the Carthage Area Hospital.
There will be a Celebration of Life held on Saturday, January 12, 2019 at the Fine Town Hall from 2 – 4 p.m. Arrangements are with French Funeral Home in Edwards.
Eleanor was born on March 28, 1928 in Albany to Frank and Susie (Glover) Rose. She was raised by Rev. Dr. Otto and Ola Voigt. Eleanor graduated from the Oneonta High School and from Cobleskill ATC. A marriage to Lawrence E. Kerr ended in separation.
Eleanor worked as a driver for the St. Lawrence County Office of the Aging for several years. She enjoyed her flower and vegetable gardens, making candy and building wooden furniture.
Her survivors include her daughter and son-in-law, Susan and Bob Shene; a son and daughter-in-law, Dan and Val Kerr; 8 grandchildren, Kyle, Nathan, Shannon, Daniel Jr., Chad, Shawn, Andrea and Nikki; and 16 great grandchildren.
Eleanor is predeceased by all of her siblings. Donations in Eleanor's memory may be made to the Fine Fire Department, PO Box 36, Fine NY 13639. Condolences may be shared online at www.frenchfuneralhomes.com.