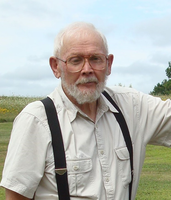 Clayton A. Weatherup
GOUVERNEUR - Clayton A. Weatherup, 88, of Gouverneur, NY passed away quietly on Friday, December 21, 2018 at his daughter's home in Albany, NY.
Calling hours will be held on Friday, January 18, 2018 from 2 – 4 and 7 – 9 p.m. at French Funeral Home, 16 Barnes St., Gouverneur, NY.
The funeral service will be held on January 19th at 11:00 a.m. at French Funeral Home. Burial will follow in the Hailesboro Cemetery.
Clayton was born on May 28, 1930 in Kendrew, NY, son of Dorr C. and Shirley (Holland) Weatherup. He attended one room school houses in Kendrew and then Maple Ridge (DeKalb). He was a 1947 graduate of DeKalb Jct. High School. Drafted into the U.S. Army in 1954, Clayton served two years in Bavaria, Germany after which he attended college in Colorado.
He married Elizabeth A. Reynolds in 1958 in Heuvelton, NY. Clayton was a dairy farmer in DeKalb for 20 years. He also worked 14 years for DHI as a milk tester. He was a Grange member for many years in Old DeKalb and Kendrew. Clayton married Myra (Flanagan) Byrns in 1983 in Gouverneur, NY. In their retirement Clayton and Myra enjoyed their antiques and collectibles business.
Clayton is survived by three sons; Martin (Etta) Weatherup of Wasilla, AK, Bradley Weatherup of Great Barrington, MA, Kenneth Weatherup (David Boczenowski) of Gretna, LA and by two daughters; JoAnn (Thomas) Richards of Fulton and Angela (Darrin) Leizer of Albany, 5 grandchildren and 6 great-grandchildren. He is also survived by three step-daughters; Nancy Searles (Steve Westlake) of Locke, Susan (Russ) Moody of Wauseon, OH and Amy (Patrick) Hillanbrand of Lehighton, PA as well as a step-daughter-in-law Patricia (Roy) Williams of Plessis, 7 step-grandchildren and 9 step-great-grandchildren, and many nieces and nephews.
Clayton is predeceased by his wife of 33 years, Myra, his parents, Dorr and Shirley, a daughter, Sharon (1970) and five sisters and brothers-in-law; Lucy and Erwin Conklin (Gouverneur), Avis and Robert O'Connor (Watertown), Merna and Victor Mason (Marion), Esther and Robert Thompson (Canton) and Eileen and Floyd Powell (DeKalb Jct.).
In lieu of flowers, donations may be made to the Community Hospice Foundation, Gift Processing Center, 310 S. Manning Blvd., Albany NY 12208. Condolences may be shared online at www.frenchfuneralhomes.com.