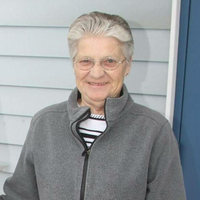 Grace W. Turnbull
ANTWERP- Grace Winnifred Turnbull, age 69, of Antwerp, passed away on Sunday, December 16, 2018 at Claxton Hepburn Medical Center surrounded by her loving family.
Grace was born on May 20, 1949 in Gouverneur, NY to the late George and Greeta (Denner) McIntyre. She attended Balmat School and Gouverneur High School. She married Kim H. Turnbull on March 22, 1991 on Grove Street with the Justice of Peace, Bill Mashaw officiating. Grace and Kim have been married for 27 years, however they have been together for a very loving 37 years. A previous marriage to Edwin Hadfield Sr. ended in divorce.
Grace was a bus monitor for A&E Transportation Inc. out of Watertown. She previously worked as a house cleaner, worked at the Gouverneur Bowl and at Bonnie's Diner. She enjoyed playing cards, camping, bowling, shopping with her sisters and nieces, driving motorcycles in her younger days and spending time with her family.
Surviving is her husband, Kim; two daughters, Pamela Matthie (Kevin Burns) of Parish and Denise Mitchell (Leon) of Heuvelton; two sons, Edwin Hadfield Jr. (Lisa) and James Hadfield (Angela) both of Gouverneur; a step daughter, Nicole Justice (Brian) of NC; a step son, Jason Turnbull of NC; two brothers, George McIntyre and Gary McIntyre (Tammy) both of Gouverneur; brothers-in-law, Brent Sharpe and Richard Ashley; 11 grandchildren, Colby, Zach, Tara, William, Kylea, Kurtis, Tosha, Michael, Alice, Dion and Evan, 7 great grandchildren and several nieces and nephews.
Grace is predeceased by her three sisters, Gail Hadfield, Greeta Sharpe and Gerry Ashley; two sisters-in-law, Peggy McIntyre and Linda Turnbull and a niece, Trisha Sharpe.
There will be a celebration of life gathering on Thursday, December 20, 2018 starting at 2:00 p.m. at the Gouverneur Fire Department. Arrangements are with French Funeral Home, Gouverneur. Condolences may be shared online at www.frenchfuneralhomes.com. Donations may be made in Grace's memory to the Gouverneur Breast Cancer Fund, P.O. Box 64, Gouverneur, NY 13642.