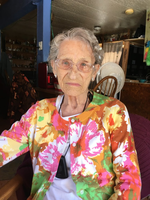 Barbara J. Backus
GOUVERNEUR – Barbara J. (Thayer) Backus, age 83, of Gouverneur, passed away on October 28, 2018 at home under the care of her family and Hospice.
Calling hours will be held at French Funeral Home in Gouverneur on Wednesday, October 31, 2018 from 11:00 a.m. to 1:00 p.m., immediately followed by her funeral service at 1:00 p.m. Burial will be in the Fullerville Cemetery. Condolences may be shared online at www.frenchfuneralhomes.com.
Barbara was born on October 3, 1935 in Gouverneur to the late Arthur W. and Ida H. (Bowman) Thayer. She attended the one-room schoolhouse in Hailesboro. Barbara married John "Junior" Backus on September 7, 1965 in Vermont. Junior died on November 28, 2015.
Mrs. Backus had worked for the Circle Inn Diner for many years where her cinnamon rolls and donuts were her specialty. She had also worked in housekeeping for a nursing home in Florida for 3 years. Barbara held a youth Bible study in her home once a week for the last 3 years and found joy in that. She also loved to crochet. She was also the one that held the fourth of July Thayer family reunions for the last 20 years.
Her survivors include 7 children, Linda Whitney, Jennifer Wagar, Holly Matthie, Lucinda Bishop, Elwin Bell Jr., Herbert Bell and Arthur Bell; and 4 siblings, Robert Thayer, Beverly LaVare, Sally Belmore and Colleen Gates; and numerous grandchildren, great grandchildren, great-great grandchildren, nieces and nephews.
She is predeceased by 2 children, David Bell and Donald Backus; and 5 siblings, Mary Lou Ducket, Richard Thayer, Paul Thayer, Kenny Thayer and David Thayer.
In lieu of flowers, donations in memory of Barbara may be made to the Fullerville Community Church.