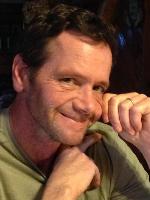 William "Bill" Prashaw
GOUVERNEUR – William "Bill" Prashaw, age 56, of Gouverneur, passed away on Tuesday, December 6, 2016 at the Canton-Potsdam Hospital.
Calling hours will be held at French Funeral Home in Gouverneur on Friday, December 9, 2016 from 4:00 – 7:00 p.m. His funeral service will be on Saturday at 1:00 p.m. at the funeral home.
Bill was born on November 21, 1960 in Gouverneur to the late Harold "Wayne" Prashaw, Sr. and Beatrice (Conlin) Prashaw. He attended the Gouverneur Central School and worked as the Produce Manager for P&C Grocery in Gouverneur until becoming disabled in 1993.
Bill married Vicky Hadfield on October 3, 1981 at the Gouverneur Presbyterian Church. They built their home together where Bill crafted all the custom woodwork and cabinets. He could build anything with his skills in woodworking and masonry. Bill loved to work on their hobby farm, "Echo Valley", and enjoyed driving his tractor and cutting hay. He liked to hunt and loved time spent fishing with, and being around, his grandchildren.
His survivors include his wife, Vicky Prashaw and her family; sons, Josh and Jenn Prashaw and Jeremy and Kylie Prashaw; brothers, Butch, Timothy and his companion, Patti Gadbaw, and Gary and Kim; and sisters, Cynthia and Billy Whitford and Marletha and Ray Hughto. Bill is also survived by his 4 precious grandchildren, Jacob, Jonah, Raelyn and Jaycie.
He is predeceased by his parents, Wayne and Beatrice Prashaw.
Donations in memory of Bill may be made to the Gouverneur Business Women's Breast Cancer Fund, PO Box 64, Gouverneur NY 13642. Condolences may be shared online at www.frenchfuneralhomes.com.