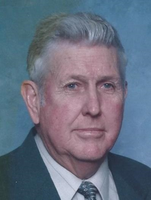 Leland Bullock
RUSSELL – Leland Bullock, age 82, of Russell, passed away on April 4, 2018 at the St. Joseph's Home in Ogdensburg.
Calling hours will be held at French Funeral Home in Edwards on Saturday, April 7th from 4:00 – 7:00 p.m. and on Sunday from 1:00 – 4:00 p.m. His funeral service will be held at the Edwards Methodist Church on Monday, April 9th at 1:00 p.m. Burial will follow in the Fairview Cemetery.
Leland was born on April 6, 1935 in Edwards to the late Fred and Manie (Given) Bullock. He graduated from the Edwards Central School in 1952 and worked as a road construction foreman for the Laborers' Local Union #322 for 40 years, retiring in 1997.
Leland married Janet Ann Wiese on May 28, 1960 at St. Mary's Catholic Church in Canton. They were married for 52 years when Janet passed away on December 16, 2012.
Leland was a member of the Wildwood Masonic Lodge for 56 years where he had formerly served as Master. He was also a member of the Edwards Historical Association and the Beech Flat Hunting Club. Leland enjoyed making maple syrup, spending time in the woods, traveling and being with his cat, Fluffy. He was proud of his Irish heritage, loved his family and watching his grandchildren's school events. Leland truly was a big people person who made friends wherever he went. He will be remembered for his stories and jokes.
His survivors include 3 daughters and their husbands, Deborah and Darren Colton, Kathleen and Robert Hance, Patricia and Michael Bush; a son and his wife, David and Julie Bullock; a brother, Arland "Sonny" Bullock; 12 grandchildren, Jenna, Krista, Samantha, Davey, Jesse, Jadilynn, Jarrett, Meghan, Cameron, Kari, Morgan and Emily; 4 great-grandchildren; and several nieces, nephews and cousins.
Leland is predeceased by his wife, Janet; a brother, Stanley Bullock; and 2 sisters, Arlene and Eleanor Bullock.
Donations in memory of Leland may be made to the Edwards Fire Department or the Edwards Historical Association. Condolences may be shared online at www.frenchfuneralhomes.com.