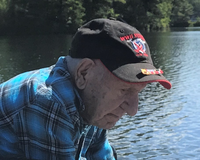 Harold W. Pickering, Sr.
STAR LAKE – Harold William Pickering, Sr., age 91, of Star Lake, passed away on March 20, 2018 at his son's winter home in Florida.
His funeral Mass will be held at St. Hubert's Catholic Church in Star Lake on Monday, June 4, 2018 at 11:00 a.m. Burial with military honors will follow in St. Michael's Cemetery in Fine. There will be no calling hours. Arrangements are with French Family Funeral Home.
Harold was born on October 1, 1926 in Massena to the late Leo and Agnes (Hart) Pickering. He attended the Gouverneur High School and served in the United States Navy from 1943 until his honorable discharge in 1946. He served on the USS Arkansas in both Theaters of WWII.
He married Dorothy "Dot" Ely on December 27, 1946 at the Herkimer First Baptist Church. Dorothy passed away on April 9, 2014. Harold worked for the Newton Falls Paper Mill for 45 years, retiring as a Coating Platform Operator.
Harold was a member of the American Legion Post 1539, St. Hubert's Parish, and the Newton Falls Rod-N-Gun Club. He enjoyed hunting, fishing and playing cards.
His survivors include his daughter and son-in-law, Linda and Jack Faulkner of Pinellas Park, FL; his son and daughter-in-law, Harold Jr. and Nancy Pickering of Star Lake; and 2 sisters, Ethel Kinney and June Murphy. He is also survived by 5 grandchildren, Christina Pomerville, Harold "Billy" III, Brande DeFilippis, Shannon Paaga and Jack Faulkner and 10 great-grandchildren, Jacqueline Pomerville, Eden Faulkner, Tyler Ferris, Liam Paaga, Alexis Pomerville, Kyle and Kaden Pickering, and Bella, Lola and Seth DeFilippis.
Mr. Pickering is predeceased by 4 sisters, Margaret Cassell, Esther Farnsworth, Hazel Brickey and Beatrice Link; and his brother, Robert Pickering.
Donations in memory of Harold may be made to Hospice of St. Lawrence Valley, 6805 US HWY 11, Potsdam NY 13.676. Condolences may be shared online at www.frenchfuneralhomes.com.