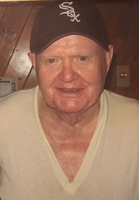 Carl "Bennie" Butler
GOUVERNEUR – Carl "Bennie" Butler, Jr., age 92, of Gouverneur, passed away at home on February 16, 2018.
There will be graveside service in the Hermon Cemetery on Saturday, February 24, 2018 at 10:00 a.m. Arrangements are with French Funeral Home in Gouverneur.
Carl was born on December 5, 1925 in Edwards to the late Karl and Dorothy (Fuller) Butler. He graduated from the Edwards High School in 1947 and proudly served in the United States Army for 10 years and the United States Air Force for 10 years. Over his military career he travelled all over the world, fought during WWII and was taken as a P.O.W. in Africa. During his imprisonment Carl met Adolf Hitler.
Carl played baseball for the Army and had at one time played against both Joe DiMaggio and Babe Ruth. He had so many stories to tell and would if given the audience. After his military career, Bennie bartended and ran a bar in Rochester for 7 years.
His survivors include several nieces and nephews, and his close friends. Carl is predeceased by his parents and his brothers, Edison, Charles, Tracy and Mahlon; and a sister who died at birth.
Donations in memory of Carl may be made to the Gouverneur American Legion or Gouverneur VFW. Condolences may be shared online at www.frenchfuneralhomes.com.