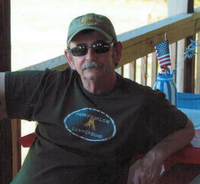 Rick S. Peck
GOUVERNEUR – Richard "Rick" Steven Peck, age 59, passed away on February 6, 2018 at his home under the care of hospice.
There will be a Celebration Of Life held at the Gouverneur American Legion on Sunday, February 18, 2018 from 1 – 4 p.m. Arrangements are with French Funeral Home in Gouverneur. Condolences may be shared online at www.frenchfuneralhomes.com.
Rick was born in Gouverneur on August 6, 1958 to the late Ernest and Vivian (Robar) Peck. He attended the Edwards Central School and graduated from the Gouverneur Central School in 1976.
Rick served in the United States Navy for six years, including over 2 years of sea service. He worked for the E.J. Noble Hospital in housekeeping and maintenance for over 20 years before retiring due to disability in 2016.
He loved hunting, camping at Happy Hollow in Lowville, playing soccer and basketball, and helping other people.
Rick is survived by his fiancée, Linda Cook and her children, Ashley and Adrian LaVair; his children, Jordan and her husband, Clark Porter, Roxi Peck, Chelsi Peck and her companion, Kristopher Griffith; and 8 siblings, Ronald Peck (Ann Goodale), Randy Peck, Ellen (Gary) Mott, Joyce Witherell (Al Griffin), Connie Vrooman, Ruth (David) Hinshaw, Linda (Larry) Lashua, and Kathy Fisher; and 3 grandchildren with one more on the way.
In addition to his parents, Rick is predeceased by two brothers, Roger and Robert Peck; and a sister, Dorothy Peck who died at birth.
Donations in memory of Rick may be made to Hospice of St. Lawrence of St. Lawrence Valley, 6805 US HWY 11, Potsdam NY 13676 or to the Gouverneur Breast Cancer Fund, PO Box 64, Gouverneur NY 13642.