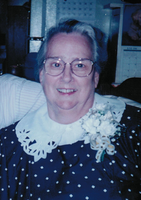 Mildred E. Barr
GOUVERNEUR- Mildred E. Barr, age 90, passed away on Sunday, February 4, 2018 at her home under the care of her family and Hospice of St. Lawrence Valley.
There will be a graveside service later in the spring at Black Lake Cemetery. Arrangements are with French Funeral Home, Gouverneur. Condolences may be shared online at www.frenchfuneralhomes.com.
Mildred was born on August 25, 1927 in Barnes Corners, NY to the late George and Annis (Stafford) Waite. She attended the Seven X Nine School in Barnes Corners and Copenhagen High School.
Mildred married Richard F. Barr on June 20, 1946 at the groom's parents' house. Richard passed away on June 30, 2011 after the couple had celebrated 65 years of marriage. Mildred was a childcare provider for many local families over the years. She enjoyed crocheting, embroidering and cooking, but mostly was devoted to her home and family.
Surviving are three sons, Larry and Deborah of Spragueville, David "Lee" Barr and his companion, Lindy Tuzzolino of Cleveland, NY and Alan and Amy L. (Infield) Barr of Gouverneur; a daughter and son-in-law, Amy M. and Gary Meier of Tamaqua, PA; seven grandchildren, six great grandchildren and several nieces and nephews.
Besides her husband and parents, Mildred is predeceased by two brothers, Willard and Clifford Waite; two sisters, Gertrude Loucks and Evelyn VanCour and a great granddaughter, Courtney Barr.
Donations may be made in Mildred's memory to Hospice of St. Lawrence Valley, 6805 US Hwy. 11, Potsdam, NY 13676.