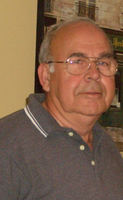 Edwin L. Perrigo
Edwin L. Perrigo, 83, of Richville, New York, passed away on February 1, 2018, surrounded by his loving family. Ed was born in Gouverneur, NY, the son of the late Tilley and Bessie (Denecia) Perrigo. He attended Gouverneur High School and married the love of his life, Arlene N. Caswell on July 2, 1954, at the Gouverneur Methodist Church. The couple moved to Richville in 1956.
Ed was a loving and devoted husband and father. He was an extremely hardworking man who was self-employed for most of his life. He owned and operated Eddie's Collision for 41 years and was also part owner of Perrigo Brothers Chevron Station, NESCO and M.E.M. Auto. He was a member of the Richville Volunteer Fire Department for 34 years and a Member of the Gouverneur Exempt Firemen's Association until his death. He enjoyed bowling, playing guitar, camping, snowmobiling and collecting die cast cars. For many years he enjoyed spending time at their camp on Pleasant Lake in the town of Champion.
Ed is survived by his wife of 63 years and their five children: Michael & Susan Perrigo, Gouverneur, NY Diane & Stephen Mobilia, Nashua, NH, Donna & Kevin Brown, Greenville, SC, Dawn Perrigo and her fiancé Kevin Rebello, Nashua, NH and Martin & Barbara Perrigo, Huntersville, NC; two sisters Hilda Dunn, Ogdensburg, NY and Dorothy Bressette, Hailesboro, NY; 12 grandchildren; 2 great-grandchildren and many nieces and nephews.
He is predeceased by his son, James Perrigo, who died shortly after birth; four sisters Clara Day, Beatrice Goodnough, Shirley Fuller, Sylvia Donaldson and two brothers Melvin and Richard Perrigo.
A memorial service to honor his life will be held at the Gouverneur Community Center on Monday, February 5th at 2:30 PM. Donations in Ed's memory can be made to the Richville Volunteer Fire Department or to the Gouverneur Business Women's Cancer Fund, which helps cancer victims of all types in the area. Arrangements are with French Funeral Home in Gouverneur. Condolences may be shared online at www.frenchfuneralhomes.com.