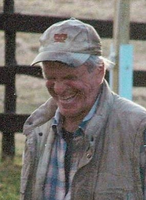 Frank J. Wujcik
ROSSIE– Frank John Wujcik, Jr., age 72, of Spragueville, passed away unexpectedly on January 24, 2018 at the Claxton-Hepburn Medical Center in Ogdensburg.
There will be calling hours for Frank on Saturday, January 27, 2018 from 11:30 until 2:00 p.m. with his funeral service immediately following at 2:00 p.m. at French Funeral Home, Gouverneur with Pastor David Hart officiating. The family will also be having a memorial service in Connecticut at a later date.
Frank was born on December 5, 1945 in Norwich, CT to the late Frank Wujcik, Sr. and Josephine (Cichocki) Wujcik. He graduated from the Norwich Regional Technical School in 1963 and served in the United States Air Force until he was given a hardship discharge to help his ill father on the family farm.
Frank married Patricia A. Prue on June 26, 1971 at St. Catherine's Catholic Church in Preston, CT. The couple bought their dairy farm in Rossie in 1992. Upon moving to New York, his passion to farm was reinvigorated with his three sons. Frank had worked in many capacities, but his heart was in farming. He enjoyed working with the U.S. Fish and Wildlife Service through Ducks Unlimited, improving the area with land and water management. He had previously been a dozer operator for the New London County Soil and Water Conservation District.
Mr. Wujcik was a lifelong member of the Preston City Fire and Rescue in Connecticut, and a member of the Preston City Grange. Frank enjoyed watching sports, especially the NY Yankees, UConn Women's Basketball and the NY Giants. He also enjoyed watching classic television shows and listening to Polka and older country music.
His survivors include his wife, Patricia; four children, Carole and Doug Lynch of Pelham, Mass, Frank III and his companion, Sara Phelps, Joseph, and Stanley; two grandsons, Owen and Connor; a brother Edward Wujcik; four sisters, Josephine Piechowski, Julie and Joseph Warzecha, Frances and Thomas Kolasa and Carol Caplet; and many nieces, nephews and cousins.
Frank is predeceased by a sister and her husband Barbara and Robert Ahern and a brother-in-law Thomas Piechowski.
Donations in memory of Frank may be made to the Army Compatible Use Buffer Program and mailed to Tug Hill Tomorrow Land Trust, P.O. Box 6063, Watertown, NY 13601. Condolences may be shared online at www.frenchfuneralhomes.com.