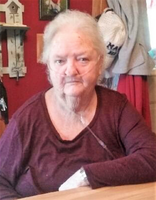 Nora J. "Jeannie" Aldridge
GOUVERNEUR- Nora J. "Jeanie" Aldridge, age 71, of Gouverneur, passed away on Saturday, January 13, 2018 at the Gouverneur Hospital.
Calling hours will be on Thursday, January 18, 2018 from 2-4 and 6-8pm at French Funeral Home, Gouverneur. Her funeral service will be on Friday, January 19th at 10:00am at the funeral home with Kara Whitford officiating. Burial will follow at East Riverside Cemetery.
Nora was born on February 14, 1946 in Gouverneur, NY to the late Clair W. and Ruth E. (House) Reynolds. She graduated from Gouverneur Central School in 1964. Nora married Arnold D. Aldridge on August 22, 1964 at the Gouverneur United Methodist Church with Rev. Stanley Brown officiating. Arnold passed away on September 29, 2001.
Jeanie was a homemaker. She was a member of the Edwards Fire Department Ladies Auxiliary. She enjoyed working on puzzles, fill-ins, watching soap operas, listening to music, her diet Pepsi and munchos and being with her grandchildren.
Surviving is a son and his companion, Douglas J. Aldridge and Shauntee June of Gouverneur; a daughter and son-in-law, Carolyn J. and Dale Barker of Edwards; two brothers, Charles Reynolds and Joel and Norma Reynolds both of Gouverneur; two sisters, Gloria Youngs of Edwards and Clarine and Gaylord Kerr of Oswegatchie; four grandchildren and several nieces and nephews.
Jeanie is predeceased by her husband; a son, Arnold D. Aldridge Jr.; three brothers, Kenneth, Adelbert and John Reynolds; and a sister, Carolyn Hubbard.
Donations may be made in Jeanie's memory to: Believe NNY, P.O. Box 293, Colton, NY 13625.