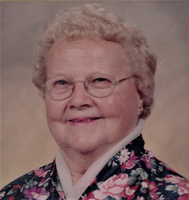 Betty S. Hutton
ROSSIE/GOUVERNEUR – Betty S. Hutton, age 87, formerly of Rossie and Gouverneur, passed away on December 10, 2017 at the Carthage Center for Rehabilitation.
Her funeral service will be held at French Funeral Home in Gouverneur on Saturday, December 16, 2017 at 11:00 a.m. with Pastor David Sheppard officiating. There are no calling hours. Burial will be in the Riverside Cemetery. Condolences may be shared online at www.frenchfuneralhomes.com.
Betty was born on July 16, 1930 in Fowler to the late Charles Marion and Irene (Streeter) Swem. She attended the Hammond High School.
Betty married Ai "Stub" Hutton on April 28, 1945 at the Gouverneur Presbyterian Church. Stub passed away on March 12, 1997.
Mrs. Hutton was a retired cosmetologist who ran her own beauty shop in her home in Rossie. She also was a cook at Turner's Diner, E.J. Noble Hospital, and Tripps Diner. Betty loved to cook and used it as her therapy. She enjoyed spending time at camp on the river, fishing, having family gatherings, and attending church.
Her survivors include a daughter, Marguerite and Richard Davidson; a son, Dale and Marie Hutton; 4 grandchildren, 10 great grandchildren, 6 great-great grandchildren, and many nieces and nephews.
She is predeceased by her husband, Stub; three children, Venitah, Ai Jr. and Donald Hutton; 8 brothers, Wellington, Alva "Pat", Leon, Bernard, Paul, Roscoe, Edmund and Donald Swem; and 3 sisters, Ruth Lee, Margaret Fuller and Beulah Walsh.