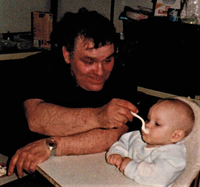 Leland R. Watson
GOUVERNEUR – Leland Robert Watson, age 74, formerly of Edwards and Gouverneur, passed away on November 15, 2017 at the Summit Village in Watertown.
There will be a calling hour held at French Funeral Home in Gouverneur on Tuesday, November 21, 2017 from 11:00 a.m. – 12:00 p.m. with his funeral service held at 12:00 p.m. with Lay Minister Martha Helmer officiating. Burial will follow in the South Edwards Cemetery.
Leland was born on November 11, 1943 in Edwards to the late Roy R. and Ida M. (Rushlo) Watson. He graduated from the Edwards Central School and married Penny McCracken on October 21, 1993.
After serving in the United States Army during the Vietnam War, Leland worked as a truck driver for the Edwards Paper Mill, and the Gouverneur Co-op, under Agway, for many years. He loved watching TV, especially sports and Westerns.
His survivors include his wife, Penny; his son, Cameron Watson; step-daughter, Kelly McCracken; brothers, Walter, Donald, William and Raymond Watson; sisters, Bertha Kirker, Mary Youker and Beth Foster.
He is predeceased by a brother, Edward Watson; and sisters, Esther Longtin and Lila and Helen Watson.
Condolences may be shared online at www.frenchfuneralhomes.com.