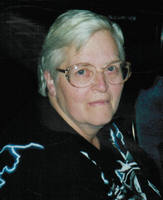 Sally J. Chapin
FOWLER – Sally J. Chapin, age 84, of Fowler, passed away at the Maplewood Health Care and Rehabilitation on Tuesday, November 14, 2017.
Calling hours will be held at French Funeral Home in Gouverneur on Saturday, November 18, 2017 from 5 - 7 p.m. Her funeral will be held on Sunday at 1:00 p.m. at the funeral home with Lay Pastor Lori Hickey officiating. Burial will follow in the Fairview Cemetery in Edwards.
Sally was born on October 8, 1933 in Fowler to the late Alwin and Evelyn (Jones) Patton. She graduated from the Gouverneur Central School in 1951 and attended the Nursing School in Watertown.
Sally married Lemuel L. Chapin on April 25, 1954 at the Fowler Baptist Church officiated by Rev. Work. Sally was a homemaker who enjoyed camping.
Her survivors include her husband, Lemuel; three daughters, Judy, Nancy, and Barbara Chapin; two sons, Richard and Natalia Chapin and Michael Chapin; and two sisters, Caroline Swanson and Cynthia Paul. She is also survived by 8 grandchildren, 12 great-grandchildren with one more on the way; and many nieces and nephews.
She is predeceased by a son, Kenneth Chapin; a daughter, Karen Sue Chapin; two brothers, Dennis and Harley Patton; and two sisters, Patricia Patton and Phyllis Skeldon.
Donations in memory of Sally may be made to the Gouverneur Rescue Squad, PO Box 164, Gouverneur NY 13642. Condolences may be shared online at www.frenchfuneralhomes.com.