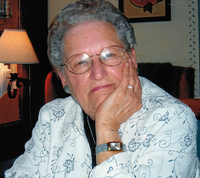 Faye S. Hopper
GOUVERNEUR- Faye S. Hopper, age 88, of Gouverneur passed away on Sunday, November 5, 2017 at Canton-Potsdam Hospital. Faye spent her last day surrounded by her four children and their families.
Calling hours for Faye will be on Sunday, November 12, 2017, from 11:00 a.m.-2:00 p.m. with her funeral immediately following at 2:00 p.m. at French Funeral Home, Gouverneur. Burial will follow at Hailesboro Cemetery. Condolences may be shared online at www.frenchfuneralhomes.com.
Faye was born on May 14, 1929. She was the youngest of seven children born to the late Lynn A. and Grace (Mix) Sprague. She graduated from Gouverneur Central School in 1947; attended one year at Crane School of Music; two years at SUNY Canton and then graduated from SUNY Potsdam, where she received both her Bachelors and Masters degree.
Faye married Frederick C. Hopper on June 4, 1950 at the Gouverneur United Methodist Church with Rev. Harold Thomas officiating. Frederick passed away on February 13, 2004. Faye worked as a school teacher for the Gouverneur Central School District for 22 years, retiring in 1990. She was a member of the NYS Retired Teachers Association, the Gouverneur Garden Club, Gouverneur United Methodist Church Unit 2, a charter member of the Knitting Club, the Mexican Domino Group, Friends of the Library, the Gouverneur Museum, SOAR- affiliate of the Elderhostel at SUNY Potsdam and the American Guild of Organist- St. Lawrence Chapter. She was the organist for the Gouverneur United Methodist Church for 62 years. She also taught piano lessons for many years. She enjoyed music, playing both the organ and piano. She also enjoyed reading, knitting, doing counted cross stitch and for many years spending the winter months in Florida.
Surviving are three sons and two daughters-in-law, Joel and Barbara of Carrollton, OH, Alan and Elaine of Sylvia Lake, NY and Jeffrey Hopper and his companion Vaughne Barkley of Heuvelton; a daughter and son-in-law, Jacquelyn and Arnold Roberts of Richville; 11 grandchildren, 8 great grandchildren and several nieces and nephews.
Along with her husband and her parents, Faye is predeceased by four brothers, Ward, Hugh, Frank and Paul Sprague and two sisters, Helen Gardner and Clara Ferguson.
Donations may be made in Faye's memory to the Gouverneur United Methodist Church or to the Faye S. Hopper Music Scholarship Fund at P.O. Box 157, Gouverneur, NY 13642.