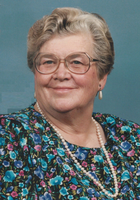 Mary A. Martin
GOUVERNEUR - Mary A. Martin, age 88, of Gouverneur, passed away on November 3, 2017 in Syracuse.
Mary was born on August 2, 1929 in the Village of Gouverneur to the late Charles S. and Mary B. (Lawrence) McAdam. She attended Dean High School in Gouverneur. She married William J. Martin on February 7, 1946 at her parents home in Gouverneur with Rev. Harold A. Thomas of the Gouverneur United Methodist Church officiating. She and her husband owned and operated a dairy farm in Fowler from 1951 until 1973. She lived in Gouverneur all of her life and enjoyed spending winters in Lady Lake, Florida. Mr. Martin passed away on January 11, 2009.
Mary is a member of the First United Methodist Church in Gouverneur. She is a former Sunday School Teacher, a member of the United Methodist Women's Group where she was past president, 4-H Leader for 40 years, Marble City Order of Eastern Stars #92 where she was past matron and District Deputy of the 1st St. Lawrence District and Grand Representative of Alabama near the Grand Chapter of New York.
Mary is survived four sons, David J. (Teri) of Fowler, Dwayne W. of Gouverneur, William J. (Nancy) of Kinderhook, NY and Allen D. (Beth) of Gouverneur; a daughter, Barbara A. Hanley-Vogel of Montgomery, Alabama; 11 grandchildren, many great grandchildren, and a Brother Clarence J. McAdam of Gouverneur. She is also survived by her extended family; Sharon (Harry) Chilton, Laura McAdam, Loretta Ellison and John (Cindy) McElroy.
She is predeceased by three brothers Charles E., Donald A. and E. Paul McAdam; a sister, Charlotte Seaman; two half-sisters Margaret Wilkson and Helen Ditmar; and two sons-in-law, Thomas Hanley and Jerry Vogel.
Calling hours will be from 7-9 p.m. on Friday, November 10, 2017 at French Funeral Home in Gouverneur and the funeral service will be at 11:00am on Saturday at the First United Methodist Church in Gouverneur with Rev. Beth Quick officiating. Burial will follow at Hailesboro Cemetery.
Donations may be made in Mary's memory to the 4-H Club at Cornell Cooperative Extension of St. Lawrence County in Canton, NY13617. Condolences may be shared online at www.frenchfuneralhomes.com.