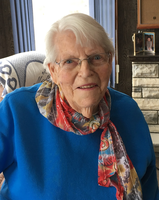 Elaine Grace Boney
HAILESBORO – Elaine Grace Boney, age 92, passed away Wednesday afternoon, November 1, 2017 surrounded by her loving family at the Claxton Medical Center, Ogdensburg, NY.
Calling hours will be from 12 p.m. to 2 with funeral and burial immediately following on Saturday, November 4, 2017 at French Funeral Home, Gouverneur, NY. The burial will be at the Hailesboro Cemetery. Condolences may be shared online at www.frenchfuneralhomes.com.
Elaine Grace was born to Claude and Hazel King Tuttle, Hailesboro, NY August 4, 1925. She was the youngest of six sisters, Evelyn, Ruby, Ethel, Freida and Marion.
Her first marriage ended in divorce. She married Francis Boney August 26, 1957. Mr. Boney passed away in 1976. She had a companion, David Johnson, for over 20 years.
She worked at W.T. Grant Co. and was also employed at the Fowler School cafeteria. She worked for thirty years as a housecleaner for several area residents and took pride in her work.
Elaine belonged to several organizations including the Promenaders in Gouverneur, NY and the Skirts and Flirts of Canton, NY, the Thousand Islands Girl Scout Council and was a forty-year member of the TOPS NY 219 chapter of Fowler. She was a member of the Methodist Church, E.J. Noble Hospital Auxiliary, and belonged to the Gouverneur Citizens and Hermon Dekalb Club. She was also a Hailesboro News correspondent for the Gouverneur-Tribune Press for over thirty years.
During WWII she volunteered for the Aircraft Warning Service as a civilian spotter to keep watch for enemy planes entering American airspace.
She was an avid walker, gardener and baker for family and friends, especially known for her delicious bread, donuts and chocolate chip cookies. She enjoyed square dancing, reading, travel and her grandchildren.
She was predeceased by her five sisters, husband Francis Boney and companion David Johnson and her granddaughter, Bonnie Fuller and her son-in-law, James Fuller.
Surviving are daughters Cynthia Fuller of Fowler, NY, Sue Ellen Caswell of Waddington, NY and Clayton Boney (Linda) of Hilltown, Pennsylvania. She had five grandchildren: Bonnie Fuller, Barbara Fuller Finnie (Bill), Trudy Caswell-Ryan (Robert), Tina Caswell Johnson (Daniel), Troy Caswell (Ruth) and her ten great-grandchildren, Cory and Christy Fuller, Jennifer and Alyssa Ryan, Nicholas and Eric Johnson, Brandon Finnie and Parker, Aspen and Mason Caswell, and great-great grandchildren, Hollie and Logan Trombly and Zachary Fuller and many nieces and nephews.
In lieu of flowers donations can be made in her memory to the Hailesboro Cemetery Association, P.O. Box 94, Hailesboro NY 13645 or the Gouverneur Rescue Squad, P.O. Box 164, Gouverneur NY 13642.