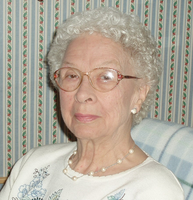 Jane J. Scott Aldous
PITCAIRN – Jane J. Scott Aldous, age 93, formerly of Pitcairn and Gouverneur, passed away on Wednesday, October 25, 2017.
Calling hours will be held at French Funeral Home in Gouverneur on Saturday, October 28, 2017 from 11:00 am – 1:00 p.m. with her funeral service at 1:00 p.m. Burial will follow in the Woodland Cemetery in Fine. Condolences may be shared online at www.frenchfuneralhomes.com.
Jane was born on August 30, 1924 in Fine to the late Frank and Mary Leta (Phillips) Scott. She graduated from the Oswegatchie High School in 1941 and from Potsdam State Teachers College in 1958 earning her BA in Elementary Education.
Jane married Wilfred C. Scott on October 2, 1943 at Scott's Bridge in the Town of Fine at her parents' home officiated by Rev. Myron French. Mr. Scott passed away on July 25, 1992. Jane married Larry Aldous on March 26, 1994. Larry passed away in November of 2000. Mrs. Aldous worked as a teacher in Fort Covington from 1945 – 1955 and for the Harrisville Central School from 1955 until her retirement in 1979. She lived in East Pitcairn from 1948 until moving to Gouverneur in 1990.
Jane was a charter member of the East Pitcairn Wesleyan Church where she was a Sunday School Teacher for many years and held several offices. She was a member of the NYS Retired Teachers Association, AARP, and the Gouverneur Senior Citizens.
Her survivors include her daughters and sons-in-law, Connie and Herbert Snider; Cheryl and Steven Maraffio; 5 grandchildren and several great-grandchildren.
She is predeceased by her sisters, Jennie Rose and Janet Hamilton; and a grandchild, Louis Scott Sacckette.
Donations in memory of Jane may be made to the Gouverneur Historical Association, 30 Church Street, Gouverneur NY 13642 or the Harrisville Historical Association, 2 Depot, Harrisville NY 13648.