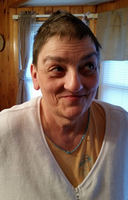 Patricia A. Farnsworth
NEWTON FALLS – Patricia A. Farnsworth, age 61, of Newton Falls, passed away on October 21, 2017 in the Canton-Potsdam Hospital.
Calling hours will be held at French Funeral Home in Edwards on Thursday, October 26, 2017 from 1:00 – 3:00 p.m. with her funeral service immediately after at 3:00 p.m. with Judy Tupper officiating. Condolences may be shared online at www.frenchfuneralhomes.com.
Patricia was born on June 3, 1956 and was adopted by John Pike and the late Barbara (Towne) Pike. She graduated from the Knox Memorial High School in 1970 and attended the Mater Dei College in Ogdensburg.
Marriages to Loran Hale and Jim Farnsworth ended in divorce. Patricia was a former employee of the Newton Falls paper mill where she was a forklift operator and general laborer.
Pat absolutely loved her dog, Abby, celebrating the holidays, drinking coffee, camping, and was a great cook.
Her survivors include her father, John Pike; son, Christopher Hale; step-children, Jimmy, Chris and Penny Farnsworth; a brother and sister-in-law, Kenneth and Wendy Pike; and foster sisters, Donna and Cindy.
She is predeceased by her mother, Barbara (Towne) Pike, her step-mother, Alice (White) Pike, and a foster sister, Darlene George.
Donations in memory of Pat may be made to your local S.P.C.A. or the St. Lawrence County Cancer Fund.