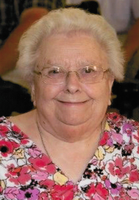 Marie J. Shippee
FOWLER- Marie Janet Shippee, age 89, of Fowler, NY, passed away on Thursday, October 12, 2017 at the Samaritan Keep Home in Watertown.
There will be calling hours on Monday, October 16, 2017 from 1:00-3:00 p.m. at French Funeral Home in Gouverneur. Her funeral service will immediately follow at 3:00 p.m. at the funeral home with Pastor Howard Maxson officiating. Burial will follow at Hailesboro Cemetery. Condolences may be shared online at www.frenchfuneralhomes.com.
Marie was born on October 18, 1927 to the late Vern and Ruth (Kentfield) Gillett. She attended the Fowler two room elementary school house and graduated from Gouverneur High School in 1946. She married Howard Shippee on October 10, 1951. This year they marked 66 years together. Their faith and commitment to each other is a great testimony to many.
Mrs. Shippee was employed by JJ Newberry and WT Grants for nine years after school. She was very involved with her community. The focuses of her activities centered on the Fowler Baptist Church, where she worshipped since she was baptized in the early 1940's. As a faithful servant she has held many offices in the church and was active in the Mission Circle, choir, church pianist, and church treasurer. She also served the American Baptist Association in many capacities including officer and delegate and receiving an award of recognition for her contributions in 2014. Mrs. Shippee was a member since April of 1948 with the Rebecca's, serving as Grand Noble in 1979.
Family was always important to Marie. Her parents, Vern and Ruth Kentfield Gillett shared her home. She lovingly cared for her father until his death in 1986. Also, and important member of the household was Ethel Thompson, who assisted in raising their boys.
Marie was small in stature, but had no difficulty commanding order in a household full of boys. Marie always found time and resources to give a birthday party to her kids or anyone else that needed one in the neighborhood. She also was a true animal lover and respected all of God's creatures.
Marie and her husband, Howard have four sons; Paul and Sue of Harrisville, Vern of Balmat, David and Ruth of Fort Edward and Claude of Granville. She has four grandchildren, Michael and Stacy of Harrisville, Anna and Kameron Spaulding of Lenox, Mass., Hillary and Tyler Getty of Kingsbury and Abraham Shippee of Fort Edward and two great grandchildren, Angelina and Aiden Shippee of Harrisville.
Donation may be made in Marie's memory to the Fowler Baptist Church, 8 Balmat-Fowler Rd., Gouverneur, NY 13642.