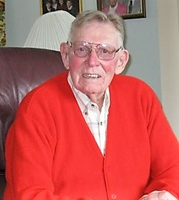 Grant E. "Judd" Austin
HAILESBORO – Grant "Judd" E. Austin, Jr., age 95, of Hailesboro, passed away on October 11, 2017 at the Gouverneur Hospital.
Calling hours will be held at French Funeral Home in Gouverneur on Wednesday, October 18, 2017 from 10:00 a.m. – 12:00 p.m. with his funeral service immediately following at 12:00 p.m. with Pastor Howard Maxson officiating. Burial will be in the Hailesboro Cemetery.
Grant was born on May 1, 1922 in Gouverneur to the late Grant E. Austin, Sr. and Nora Linn (Brown) Austin. He attended Gouverneur schools and married Inelda M. Cox on June 6, 1945 in Denver, CO. Inelda passed away on June 22, 2007.
Judd worked 26 years for J&L Steel (Benson Mines), Star Lake, NY until he retired in 1978. While at J&L he held the position of president of the local United Steel Workers Union for several years. Judd has resided in Hailesboro since 1961, where he built his own home with great pride and workmanship. He was a member of the Gouverneur Elks Lodge, and was Elk of the Year from 1982-83. Judd enjoyed the rush of piloting, motorcycling and snowmobiling. He was an avid hunter and belonged to the Mouldy Pond and Dry Timber Hunting Clubs. Later in life he became a enthusiastic, competitive golfer at the Emerald Greens Golf Course playing until he was 93 years old.
He had a great memory and knack as a storyteller. His labor of love was his mechanical ability to fix things, and with that ability, he was very generous with helping people out.
As loving father his survivors include his son and daughter-in-law, Alvin and Julie Austin; two daughters and sons-in-law, Sherry and Donald Payment and Valorie and John Foy; 9 grandchildren, several great-grandchildren, and many nieces and nephews.
Judd is predeceased by his parents and his siblings, Allen "Huck" Austin, Robert "Joe" Austin, Marie Robillard, Honora "Nodie" Stark and Ada "Louise" Hayden.
Donations in memory of Judd may be made to the Gouverneur Library, 60 Church Street, Gouverneur NY 13642 or the Fowler Baptist Church, 9 Fowler-Balmat Road, Gouverneur NY 13642. Condolences may be shared online at www.frenchfuneralhomes.com.