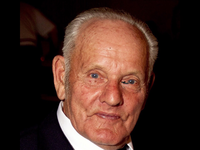 Donald E. Witherell
GOUVERNEUR – Donald E. Witherell, age 89, died peacefully at his home on October 11, 2017.
His funeral service will be held at French Funeral Home in Gouverneur on Friday, October 13, 2017 at 3:00 p.m. with Head Elder Milton Armstrong officiating. Burial will follow in the East Riverside Cemetery. Condolences may be shared online at www.frenchfuneralhomes.com.
Donald was born on March 27, 1928 in Hopkinton NY to the late Phillip and Alice (Wilson) Witherell and attended the Hopkinton-Parishville School. He married Phyllis E. Bowman on July 16, 1958. They had 2 sons and 1 daughter; Dean H. Witherell, Donna E. Witherell Chambers and her husband, Bill, and David K. Witherell and his wife Stephanie, all of Gouverneur. He is also survived by 7 grandchildren and 11 great-grandchildren; a brother, Phillip Witherell and a sister, Joyce Peck.
He is predeceased by his parents and 2 sisters, Mary Kinnear and Loraine Wilson.
Donald was an active member of the Gouverneur Seventh-Day Adventist Church and had a strong faith in Jesus Christ as our Lord and Savior. He was always happy to share the Bible and Jesus to all who had a listening ear.
He started work at the Hopkinton Highway Department, then at St. Joe's Mineral Corp and the Natural Dam Paper Mill. He farmed it for many years and worked logging until 1974 when he started a successful salvage business where he and his son, Dean, operated until 2013. He loved working and continued farming until his passing.
Donald's family has requested that in lieu of flowers, donations please be made to the Gouverneur Seventh-Day Adventist Church, 190 West Main Street, Gouverneur NY 13642.